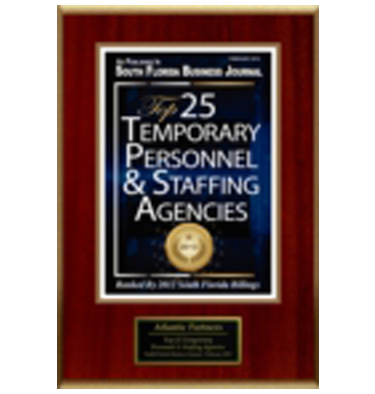 Atlantic Partners of Boca Raton, FL has been honored with Recognition from South Florida Business Journal in it's selection of "Top 25 Temporary Personnel & Staffing Agencies"
BOCA RATON, Fla., Feb. 21, 2013 /PRNewswire-USNewswire/ — Announcing a special recognition appearing in the February, 2013, issue of South Florida Business Journal published by American City Business Journals. Atlantic Partners was selected for the following honor:  "Top 25 Temporary Personnel & Staffing Agencies."
A spokesperson from Atlantic Partners commented on the recognition: "This is quite an honor for us. The fact that South Florida Business Journal included Atlantic Partners in its selection of 'Top 25 Temporary Personnel & Staffing Agencies' signals that our constant efforts towards business excellence are paying off. We are proud to be included in this recognition."
About Atlantic Partners: Atlantic Partners has become the preferred recruiting partner for premier organizations nationwide. Our firm is managed by a seasoned team of professionals with extensive experience in the staffing industry. Our innovative approach has been the primary reason for our success in a corporate world that is constantly changing. Atlantic Partners maintains a controlled and limited client roster, thereby allowing us the freedom to pursue the widest possible industry base for your search requirements. A strong history of repeat business and referrals is the hallmark of our success.
Following the publication of Atlantic Partners' selection for South Florida Business Journal's Top 25 Temporary Personnel & Staffing Agencies list, American Registry seconded the honor and added Atlantic Partners to the "Registry of Business Excellence™." For more information on Atlantic Partners, located in Boca Raton, FL, please call 561-912-9363, or visit www.atlanticpartnerscorp.com.
This press release was written by American Registry, LLC with contributions from Atlantic Partners on behalf of Atlantic Partners and was distributed by PR Newswire, a subsidiary of UBM plc.