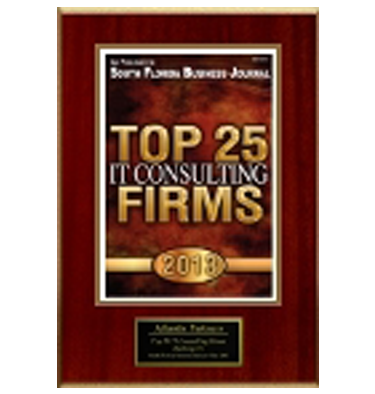 Boca Raton, FL (PR Newswire) June 17, 2013— Atlantic Partners, a business and technology consulting firm that provides consultative services to the Financial Services, Insurance, Healthcare, and Information Services industries announced today a special recognition that Atlantic Partners of Boca Raton, FL has been honored with recognition by South Florida Business Journal in its selection of the "Top 25 IT Consulting Firms."
Monroe Gang, President and CEO, from Atlantic Partners commented on the recognition: "Atlantic Partners strives to expand our services into new markets with new clients. We are continually looking for ways to set the bar higher and this proves that we are being recognized as just that. I am looking forward to sharing additional accomplishments in the near future."
Atlantic Partners has rapidly become the preferred partner for premier organizations nationwide. Their firm is managed by a seasoned team of professionals with extensive experience in the recruiting industry. Atlantic Partners has consistently grown year over year since its inception and are a financially sound partner who is dedicated to providing exceptional service and, perhaps most importantly, highly creative and visionary solutions.
About Atlantic Partners:
Atlantic Partners operates out of Boca Raton, Florida and New York, New York.   They provide a strategic consultative approach and develop outstanding relationships with their clients to ensure that they fully understand all of their clients business, culture and values to match appropriate resources to fill staffing needs.  Atlantic Partners constantly strives to improve their recruiting process and uncover passive candidates while networking with managers and current consultants to provide top-notch talent.
Forward-Looking Statements
The statements contained in this press release and attachments that are not historical facts are forward-looking statements that involve certain risks and uncertainties, including risks associated with the uncertainty of future performance of our companies, acquisitions of additional partner companies and dispositions of partner companies, additional financing requirements, the effect of economic conditions in the business sectors in which our partner companies operate, our ability to execute our business strategy and other.  The Company does not assume any obligation to update any forward-looking statements or other information contained in this press release.
PR_2013June17SouthFlorida_Business_Journal.Top.25.IT.Consulting.Firm.FINAL